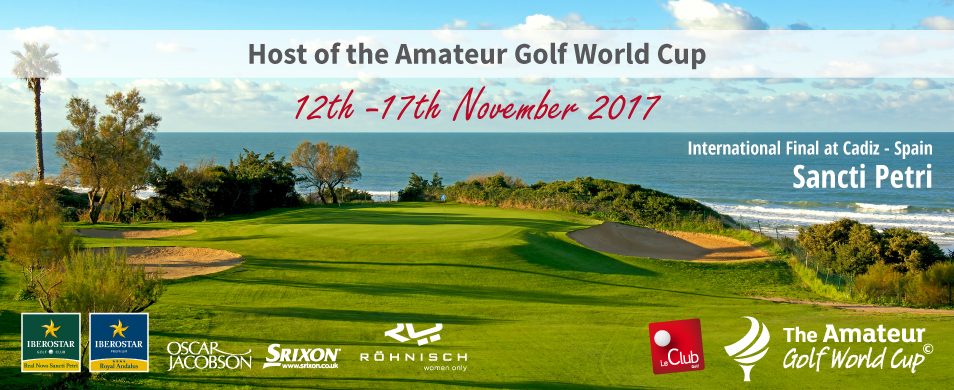 We are celebrating next year the 2nd edition of the Amateur Golf Wold-cup!!!
This amazing worldwide event will be hosted by the Real Golf Novo Sancti Petri.
Just 2 words describe the Novo Sancti Petri golf course which is nowadays considered by many to be the great Severiano Ballesteros' masterpiece: Challenges and Beauty.
Novo Sancti Petri golf course, the first one designed in Spain by the indomitable and demanding Ballesteros, has been laid out so that players can enjoy the entire philosophy of the game and of Seve's indomitable spirit in its purest form.
Novo Sancti Petri golf course, with a total of 54 holes, presents a wide variety of undulating fairways and stepped greens, protected by bunkers, water hazards, and abundant vegetation that is typical of the area (pines, cork oaks, mastic trees, olive trees, etc.), which require players to use maximum concentration and precision when attacking the flags. The views over the ocean and the seemingly endless beach of La Barrosa, and the almost omnipresent sea breeze, make the game more difficult and more attractive along a course that is interesting at all levels.
The golf rounds at Novo Sancti Petri Club are a challenge at the level of the most daring golfers. As is known all over the world, Seve was the greatest and most charismatic Spanish golfer of all time, and the most honored at international level: he won two Masters at Augusta – becoming the first European to win the Masters since its inauguration in 1934, three British Opens, four Ryder Cups, a Prince of Asturias Prize for Sport, and 82 further titles.
Novo Sancti Petri Golf course Official Website: http://www.clubgolfrealnovosanctipetri.com/index.php?lng=en
All guests will be accommodate in a luxurious ****Resort to have an amazing experience and enjoy the charm of "Costa Del Luz".
The IBEROSTAR Royal Andalus**** hotel is located right on the La Barrosa beach, in the town of Novo Sancti Petri in Chiclana de la Frontera, Cádiz. This extensive and elegant complex has direct access to the beautiful La Barrosa beach boasting 9 km of white sand and dunes: one of the best on the Costa de la Luz.
This magnificent 5-star hotel in Cadiz, as well as extraordinary facilities: you can sample its exquisite gastronomy and relax in its SPA Sensation, have fun with the variety of activities and sports that they offer to share with the family or as a couple, and enjoy t heir excellent service. Everything you need to make your golfing holiday at Sancti Petri an unforgettable experience.